Making Something From Nothing / Houseproud
is a curatorial project by the ceramicists Joanna Günther and Caroline Harrius. The project is based on a text from 1978 by Lucy Lippard; Making Something From Nothing.
They share a common interest in the text, which despite its age is still comparable with today's society and status symbols in the home. Eleven artisans with an artistic practice relevent to the chosen essay, allfrom different fields with widely differing skills, were invited to take part of the text and produce a work. The result is an exhibition where a group is presenting their own examiniation of the same issues, and narratives born from the same text.
The show took place during Sthlm Craft Week at the intimate
WAY Gallery
30/9 - 3/10 2021
Artist talk in swedish can be viewed at WAY Gallery's offical instagram page.
Link
Participating Artists :
Anja Fredell, Caroline Harrius, Clara Dackenberg, Emelie Liljebäck, Erika Emerén, Evelina Dovsten, Joanna Günther Kristina Skantze, Mia Larsson, Tillie Burden, Zandra Ahl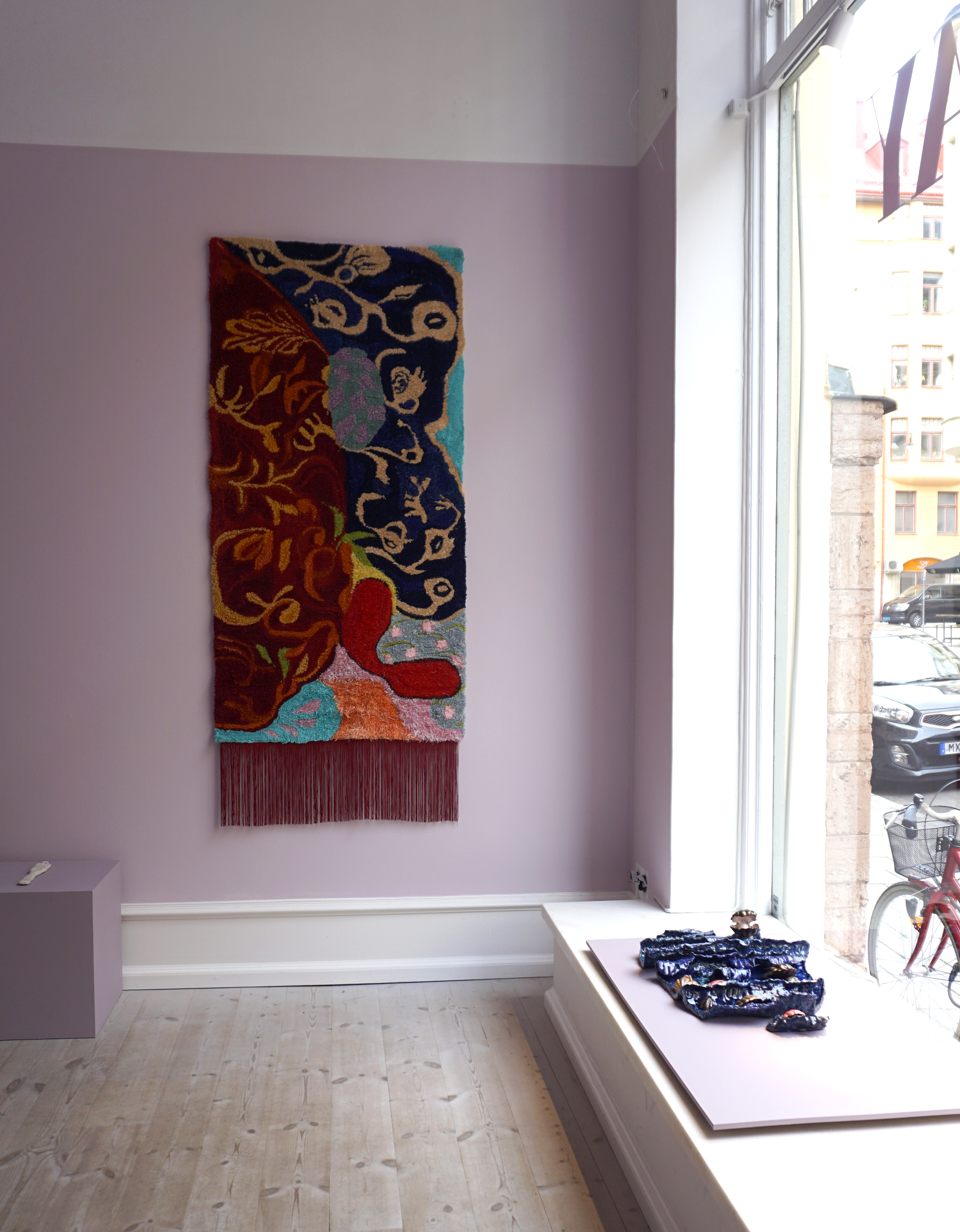 Works by Anja Fredell "Gravity and Grace" and Joanna Günther "Livets små Glädjeämnen."
Below, Clara Dackenberg "En Skapelse"
The home makers sense of care and touch focuses on sewing, cooking, interior decoration as often through conditioning as through necessity, providing a certain bond between middle-class and working-class housewives and career women. (I am talking about the making of the home, not just the keeping of it; "good housekeeping" is not a prerogative for the creativity in the home. It might even be the opposite, since the "houseproud" woman is often prouder of her house, her container, than she is of herself.)

Even these days women still tend to be brought up with an exaggerated sense of detail and a need to be "busy", often engendered by isolation within a particular space, and by the emphasis on cleaning and service. A visually sensitive woman who spends day after day in the same rooms develops a compulsion to change, adorn, expand them, an impetus encourageby the "hobby" books.

The "overdecoration" of the home and fondness for bric-a-brac often attributed to female fussiness or plain Bad Taste can just can just as well be attributed to creative restlessness. Since most homemade hobby objects are geared toward home improvement, they inspire less fear in their makers of being "selfish" or "self-indulgent," there is no confusion about pretentions to Art, and the woman is freed to make anything she can imagine. (At the same time it is true that the imagination is often stimulated by exposure to other such work, just as "real" artists are similarly dependent on the art world and the works of their colleagues.)

Making "conversation pieces" like deer antler salad tongs or a Madonna in an abalone shell grotto, or a mailbox from an old breadbox, or vice versa, can be prelude to breaking with the "functional" excuse and the making of wholly "useless" objects.
-Lucy Lippard, 1978


Mia Larsson, "Venus" and "Ying & Yang", Erika Emerén "Kom", Tillie Burden "Melted", Caroline Harrius "Unfunctional Everyday"
Zandra Ahl "Visdom Transfer", Kristina Skantze "Stunden" and Evelina Dovsten "Minneshärd"



Emelie Liljebäck "Minne från ett kök"